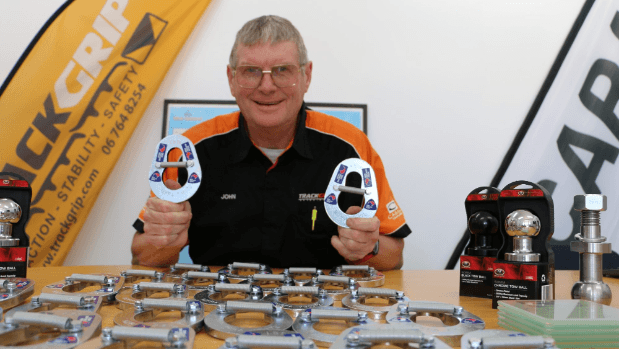 07 Jun

Taranaki inventor's new device keeps towed loads secure

Thirty years ago John Burling almost lost his wife and infant son to a tow rope mishap, and he has finally discovered a way to prevent it happening to others.

The tow rope, on the car he was towing them home in after a breakdown, unhitched itself and the vehicle careered towards oncoming traffic on a steep hill.

"Just as we were coming into Whanganui on one of those fast pieces the thing slipped off the towball and the rope went in between the front wheels of the car and caused Yvonne to veer into the oncoming traffic. She was really stressed about it because it nearly killed her and our son," he said.

But Burling, an Eltham inventor and engineer, has come up with a way to stop a tow line ever coming undone again – and it's shaping up to be a big commercial success.

The invention, called a Towlock, would hold a load tight no matter what angle it was towed at, or how rough the ride.The oval device slips over the towball shank or another suitable anchor point on a tow vehicle, and is held firm by a spring. Burling said it would be ideal for emergency crews, towing firms and farmers.

More recently, his own ute sustained $5000 worth of damage when a tow line fell off while he was hauling it out of mud behind a digger and the vehicle careened back down a steep hill.

The long-suffering Surf ute recently helped him prove a point for a photo, hanging, with its back wheels suspended in midair, from a Towlock on its towbar.

"We just picked it up with the forklift and held it up in the air. There's no way it can come disconnected," Burling, the managing director of the Carac Group, said.

His main worry now is how to make enough of the devices to meet the demand.

He's taking two or three thousand Towlocks to sell at the Fieldays at Mystery Creek on June 14-17.

"The market for it is massive world-wide, every farmer, every person who is launching a boat, any person with a four-wheel-rive, there's just so many applications where you would use that."

His sights are set on the markets in Australia, America and Canada,  he said.

"One hundred million dollars worth on the next 12 months. That's what I've set my target to, it might be a bit ambitious but the market is huge. Everywhere I've taken it to to show people, I've had 100 per cent sales hit with it."

The devices retail for between $20 for one suitable for a four wheeler, to around $40 for heavy machinery-sized ones.

Burling said the idea came to him as he was trying to figure out an extra accessory for the trailer couplings he sells.

"A lot of people were welding an eye onto the end of our trailer couplings so they could use it as a towing device. I was playing around with it at home, one evening I came down and drew it up. We had a few gos at getting it right, then I sent it away to the patent people, then I had to get the springs made and source all NZ-made steel."

He's already looking for more staff for his six factories in Eltham, and says more people will be needed just to manufacture Towlocks.

"Its going to need a team of workers here at Carac, we have so much work on already, it's not funny. It's certainly going to bring employment to the region."​

View full Stuff article here. View the video here.